श्री राम भुजङ्ग प्रयात स्तोत्रम् | श्रीरामभुजङ्गप्रयातस्तोत्रम् – विशुद्धं परं सच्चिदानन्दरूपं| राम भुजंग स्तोत्र | राम स्तोत्र |  Sri Rama Bhujanga Prayata Stotram| Shri Ram Bhujang Prayaat Stotra | शंकराचार्य द्वारा रचित श्री राम भुजङ्गप्रयात स्तोत्रम् | Ram Bhujang Prayaat Stotra composed by Shankaracharya| Rama Bhujangaprayata Stotram| Shri Rama Bhujanga Prayata Stotram with meaning in english |   Benefits of Shri Ram Bhujang Prayaat Stotra
Subscribe on Youtube:The Spiritual Talks
Follow on Pinterest:The Spiritual Talks
विशुद्धं परं सच्चिदानन्दरूपं
गुणाधारमाधारहीनं वरेण्यम् ।
महान्तं विभान्तं गुहान्तं गुणान्तं
सुखान्तं स्वयं धाम रामं प्रपद्ये ॥१॥
Vishuddham param sachhidanand roopam,
Gunadhaar maadhaar heenam varenyam,
Mahantam vibhantam guhantam gunnantam,
Sukhantam swayam dhaam raamam prapadhye. 1
I take refuge in Sri Rama, who is the purest, the greatest, of the form of Existence,Consciousness and Bliss; who is the repository of the innumerable good qualities,while Himself not needing any support,who is the most worshipful,who is all pervading, the most resplendent one, who is enthroned in the hearts of all beings,who is above all the three gunas of sattva, rajas and tamas,who is free of all materialistic pleasures and who is Self-supporting.1
शिवं नित्यमेकं विभुं तारकाख्यं
सुखाकार माकार शून्यं सुमान्यम् ।
महेशं कलेशं सुरेशं परेशम्
नरेशं निरीशं महीशं प्रपद्ये ॥२॥
Shivam nityamekam vibhum taarakaakhyam,
Sukhaakaarmaakaar shoonyam sumaanyam,
Mahesham kalesham suresham paresham,
Naresham nireesham maheesham prapadhye. 2
I take refuge in (Shri Rama), (who is) the most auspicious, the eternal one, all-pervading,the deliverer of all the worlds, the embodiment of bliss itself, who is formless, yet the most respected, who is the great Lord, master of all arts, Lord of the gods, parameshvara, the lord of the world and who has no other Lord but Himself.2
यदावर्णयत्कर्णमूलेऽन्तकाले
शिवो रामरामेति रामेति काश्याम् ।
तदेकं परं तारकब्रह्मरूपं
भजेऽहं भजेऽहं भजेऽहं भजेऽहं ॥३॥
Yada varnnyat karnnmoole antkaale,
Shivo ram raameti raameti kaashyam,
Tadekam param taarak brahm roopam,
Bhajeham, Bhajeham, Bhajeham, Bhajeham.3
I adore Shri Rama , the Unity, the greatest one, whose name is uttered in the ears of the blessed devotees in Kashi at the time of Death by none other than Lord Shiva Himself. This form/name of the Lord (Tarak brahm) is capable of rescuing devotees from the ocean of Samsara.3
(Salutations, Salutations, Salutations, Salutations, To that great eternal form of taarak Brahm, Which makes lord Shiva whisper in the ear, At the time of death in Kashi, "Rama, rama, rama."3)
महारत्नपीठे शुभे कल्पमूले
सुखासीनमादित्यकोटिप्रकाशम् ।
सदा जानकीलक्ष्मणोपेतमेकं
सदा रामचन्द्रं भजेऽहं भजेऽहं ॥४॥
Maha ratna peethe shubhe kalp moole,
Sukhaseenmaaditya koti prakasham,
Sada Jaanki Lakshmanopetmekam,
Sada Ramchandram Bhajeham, Bhajeham.4 
I always worship Shri Ramachandra, who is seated comfortably on a great gem-studded throne under the most auspicious Kalpavriksha. He shines with the effulgence of millions of Suns, ever accompanied by His consort Sita and brother Lakshmana. I forever adore Shri Rama who is One without a second (ekamevAdvitiya).4
क्वणद्रत्नमञ्जीरपादारविन्दं
लसन्मेखलाचारुपीताम्बराढ्यम् ।
महारत्नहारोल्लसत्कौस्तुभाङ्गं
नदच्चञ्चरीमन्ञ्जरीलोलमालम् ॥५॥
Kwannadratna manjeer paadarvindam,
Lasan mekhla chaaru peetaambaradhyam,
Maha ratna harollsat koustubhaangam,
Nadacchanjari manjri lol maalam.5
Shri Rama's lotus feet are adorned by sweetly jingling gem-studded anklets. He is wearing a beautiful yellow garment with a glittering waistband. He wears a resplendent gem necklace with the Kaustubha gem on His chest. A garland with black bees buzzing around the flowers bedecks the Lord.5
लसच्चन्द्रिकास्मेरशोणाधराभं
समुद्यत्पतङ्गेन्दुकोटिप्रकाशम् ।
नमद्ब्रह्मरुद्रादिकोटीररत्न-
स्फुरत्कान्तिनीराजनाराधिताङ्घ्रिम् ॥६॥
Lasacchandrika smer shonna dharabham,
Samudhyat patangendu koti prakasham,
Namad Brahma rudraadi koteer ratna,
Sphurat kaanti neerajanaradhadhitaangghrim. 6
A moonlight-like shining smile plays on the beautiful crimson lips of the Lord. His brilliance is unmatched even by millions of rising Suns and Moons. His feet are worshipped by the Aarti of the radiating lustre from the millions of gems adorning the crowns of the prostrating Brahma, Rudra and other gods.6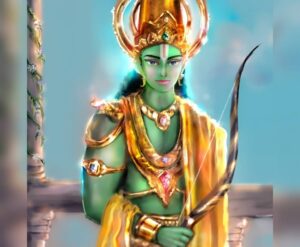 पुरः प्राञ्जलीनाञ्जनेयादिभक्तान्
स्वचिन्मुद्रया भद्रया बोधयन्तम् ।
भजेऽहं भजेऽहं सदा रामचन्द्रं
त्वदन्यं न मन्ये न मन्ये न मन्ये ॥७॥
Purah praanjali naanjneyaadi bhaktaan,
Swa chin mudraya bhadraya bodhyantam,
Bhajeham, bhajeham sada ramchandram,
Twadanyam na manye na manye na manye. 7
I always salute and salute that Ramachandra who is teaching Brahmavidya with the chinmudra to Shri Aanjaneya and other devotees who are standing with folded hands. I worship Him again and again. O Rama, I will not even think of anybody else (or any other god/deity).7
यदा मत्समीपं कृतान्तः समेत्य
प्रचण्डप्रकोपैर्भटैर्भीषयेन्माम् ।
तदाविष्करोषि त्व्दीयं स्वरूपं
सदापत्प्रणाशं सकोदण्डबाणम् ॥८॥
Yada matsameepam kritaantah sametya,
Prachand prakopair bhatair bheeshyen maam,
Tadaa vishkaroshi twadeeyam swaroopam,
Sadaapat prannasham sakodand bannam. 8
O Shri Rama! At the time of death, Lord Yama approaches me with his ferocious attendants, frightening me. Then You display your form with the Kodanda bow and arrow, which is capable of destroying all miseries and fears of dangers from me .8
निजे मानसे मन्दिरे सन्निधेहि
प्रसीद प्रसीद प्रभो रामचन्द्र ।
ससौमित्रिणा कैकयीनन्दनेन
स्वशक्त्यानुभक्त्या च संसेव्यमान ॥९॥
Nije maanse mandire sannidhehi,
Praseed, praseed Prabho Ramachandra,
Sa soumitrina Kaikeyi nandanen,
Swa shaktyaanu bhaktya cha sansevyamaan. 9
Be pleased and pleased, O Lord Rama, You are served by Your brothers Lakshman and Bharat to the best of their abilities and devotion. Kindly make the temple of my mind Your abode and be pleased towards your devotee.9
स्वभक्ताग्रगण्यैः कपीशैर्महीशै-
रनीकैरनेकैश्च राम प्रसीद ।
नमस्ते नमोऽस्त्वीश राम प्रसीद
प्रशाधि प्रशाधि प्रकाशं प्रभो माम् ॥१०॥
Swabhaktaagraganyaih kapeeshair maheeshair,
Neekair nekaisch Ram, Praseed,
Namaste namostweesh, Ram Praseed,
Prashadhi prashadhi prakasham, prabho maam. 10
O Rama, with Your foremost devotees the Vanar-lords, the kings with their armies and other numerous devotees, be pleased towards me, Your devotee. Many salutations to You, O Lord! Guide me, Your disciple, towards knowledge.10
त्वमेवासि दैवं परं मे यदेकं
सुचैतन्यमेतत्त्वदन्यं न मन्ये ।
यतोऽभूदमेयं वियद्वायुतेजो-
जलोर्व्यादिकार्यं चरं चाचरं च ॥११॥
Twamevaasi daivam, param me yadekam,
Su chaithanya metat twadanyam na manye,
Yado bhoodmeyam viyadwayu tejo,
Jalorvyadi kaaryam charam chaacharam cha. 11
You are indeed my Supreme God , my only God. You are Undifferentiated Consciousness, the only eternal fact from which have arisen the five primordial elements of Space, Air, Light, Water and Earth, as well as the mobile and immobile objects of the Universe. I do not regard anybody other than You as God , I do not acknowledge any power except you.11
नमः सच्चिदानन्दरूपाय तस्मै
नमो देवदेवाय रामाय तुभ्यम् ।
नमो जानकीजीवितेशाय तुभ्यं
नमः पुण्डरीकायताक्षाय तुभ्यम् ॥१२॥
Nama sacchidanand roopaya tasmai,
Namo dev devaya ramaya Tubhyam,
Namo Jaanki jeeviteshaya tubhyam,
Nama pundarikayataakshaya tubhyam. 12
O Rama, who is of the form of sacchidananda ( Eternal happiness ) , salutations to You. O God of Gods, Shri Rama, obeisances unto You. O Lord, who are the beloved lord of Janki . I bow to You. O Rama, endowed with large Lotus-like-eyes, I bow to You.12
नमो भक्तियुक्तानुरक्ताय तुभ्यम्
नमः पुण्यपुञ्जैकलभ्याय तुभ्यम् ।
नमो वेदवेद्याय चाद्याय पुंसे
नमः सुन्दरायेन्दिरावल्लभाय ॥१३॥
Namo bhakti yuktaanuraktaya tubhyam,
Namo punya punjai kalabhyaya tubhyam,
Namo Ved vedyaya chadyaya punse,
Namah sundrayendira vallabhaya. 13
I bow to You, O Rama, who is attached to His devotees. My Salutations to You, O Lord, who is attained only by great punya and good deeds. I bow to you who is known only through the Vedas. O Lord, You are the primordial Purusha. I bow to the Handsome One who is the Lord of Lakshmi.13
नमो विश्वकर्त्रे नमो विश्वहर्त्रे
नमो विश्वभोक्त्रे नमो विश्वमात्रे ।
नमो विश्वनेत्रे नमो विश्वजेत्रे
नमो विश्वपित्रे नमो विश्वमात्रे ॥१४॥
Namo vishva kartre, namo vishva hartre,
Namo vishva bhoktre, namo vishva bhartre,
Namo vishva netre, namo vishva jetre,
Namo vishva pitre, namo vishva matre., 14
Salutations to the Creator of the Universe. Salutations to the Destroyer of the Universe. Salutations to the Enjoyer of the Universe. Salutations to the Measurer of the Universe. Salutations to the Guide (Caretaker) of the Universe. Salutations to the Conqueror of the Universe. Salutations to the Father of the Universe. Salutations to the Mother of the Universe.14
नमस्ते नमस्ते समस्तप्रपञ्च-
प्रभोगप्रयोगप्रमाणप्रवीण ।
मदीयं मनः त्वत्पदद्वन्द्वसेवां
विधातुं प्रवृतं सुचैतन्यसिद्ध्यै ॥१५॥
Namaste, namaste samast prapanch,
Prabhog, prayog, pramaan, praveen,
Madeeyam manahtvat pada dvandva sevaam,
Vidhatum pravritam su chaitanya siddhyai. 15
Obeisance to You! You are the Lord of the whole world, its perfect Knower and Bestower of enjoyment! Let my mind be devoted to offering service at Your feet to attain the Supreme Spiritual State and real eternal truth ! 15
शिलापि त्वदङ्घ्रिक्षमासङ्गिरेणु-
प्रसादाद्धि चैतन्यमाधत्त राम ।
नमः स्त्वत्पदद्वन्द्वसेवाविधाना-
त्सुचैतन्यमेतीति किं चित्रमत्र ॥१६॥
Shilaapi thvadamghrikshama sangirenu,
Prsadaadhi chaitanya maadhatt Ram,
Namastvat pada dvandva seva vidhaanaat,
Suchaitanya meteeti kim chitramatra. 16
O Shri Rama! even a lifeless rock obtained vitality by the contact with the dust of your Holy Feet. It is no surprise, then, if an intelligent human being attains Supreme Consciousness by the dedicated service of Your Lotus Feet.16
पवित्रं चरित्रं विचित्रं त्वदीयं
नरा ये स्मरन्त्यन्वहं रामचन्द्र ।
भवन्तं भवान्तं भरन्तं भजन्तो
लभन्ते कृतान्तं न पश्यन्त्यतोऽन्ते ॥१७॥
Pavitram charitram vichitram thvadeeyam,
Nara ye smrantyanvaham ramchandra,
Bhavantam bhavaantam bharantam bhajanto,
Labhante kritaantam na pashyantyato ante. 17
O Shri Ramachandra! those beings who constantly remember Your Holy and wonderful deeds, obtain You, who are the destroyer of the Samsara-miseries and the Support of the Universe. As a result, during their final moments, they do not have the fearsome sight of Yama and his attendants.17
स पुण्यः स गण्यः शरण्यो ममायं
नरो वेद यो देवचूडामणिं त्वाम् ।
सदाकारमेकं चिदानन्दरूपं
मनोवागगम्यं परं धाम राम  ॥१८॥
Sa punyah sa ganyah sharanyo mamaayam,
Naro Ved yo dev choodamanim tvaam,
Sadaakaarmekam  chidanand roopam,
Mano vaag gamyam param dhaam Rama. 18
O Lord Rama, You are the supreme destination. The devotee who considers You, who is of the form of sat, chit and Ananda, who is the best among the devas, and who is beyond mind and speech, as his Refuge, is indeed the most fortunate. He is indeed worthy of respect.18
प्रचण्डप्रतापप्रभावाभिभूत-
प्रभूतारिवीर प्रभो रामचन्द्र ।
बलं ते कथं वर्ण्यतेऽतीव बाल्ये
यतोऽखण्डि चण्डीशकोदण्डदण्डम् ॥१९॥
Prachand, prataap prabhavaabhi bhoot,
Prabhutaari veer, Prabho Ramchandra,
Balam tey katham varnyate ateev baalye,
Yado akhandi chandeesh kodand dandam. 19
O Lord Rama, who stand as the bravest one, You have defeated all Your enemies with ferocious valor. How can your tremendous might be described ? Because, You have broken the bow of Lord shiva in Your childhood itself ! 19
दशग्रीवमुग्रं सपुत्रं समित्रं
सरिद्दुर्गमध्यस्थरक्षोगणेशम् ।
भवन्तं विना राम वीरो नरो वाऽ-
सुरो वामरो वा जयेत् कस्त्रिलोक्याम् ॥२०॥
Dashgreevmugram saputram samitram,
Sarid durgmadhyastharakshoganesham,
Bhavantam vinaa Ram, Veero naro vaa,
Asuro vaa amaro vaa jayet kastrilokyaam. 20
Ravan, the fearsome ten-headed-one, was the king of the demons in the strong fortress protected by the ocean. He had able support in his powerful sons and friends. O Rama! by which other brave one, be it a man, a deva or an asura, could such an enemy, be defeated ? 20
सदा राम रामेति रामामृतं ते
सदा राममानन्दनिष्यन्दकन्दम् ।
पिबन्तं नमन्तं सुदन्तं हसन्तं
हनुमन्तमन्तर्भजे तं नितान्तम् ॥२१॥
Sada ram rameti ramamritam tey,
Sada ram maanand nishyand kandam,
Pibantam namantam sudantam hasantam,
Hanumant mantar bhaje tam nitaantam. 21
O Rama, Shri Hanuman constantly savors the nectar of Your Holy Name " Ram Ram ". Your Holy Name is an eternal delight and is the source of the flow of Bliss. I worship the smiling Shri Hanuman, who is endowed with elegant teeth. O Rama, I, within my heart, worship Your foremost devotee with devotion, who constantly prostrates before You.21
सदा राम रामेति रामामृतं ते
सदा राममानन्दनिष्यन्दकन्दम् ।
पिबन्नन्वहं नन्वहं नैव मृत्योर्-
बिभेमि प्रसादादसादात्तवैव ॥२२॥
Sada Ram rameti Raamamritam tey,
Sada raam maanand nishyand kandam,
Piban nanvaham nanvaham naiv mrityor,
Bibhemi prasadaadasaadaat tavaiv. 22
O Lord Rama, Your Holy Name is an eternal delight to chant and It is the Source of the Flow of Bliss. By enjoying such nectar always, I will indeed never fear Death, due to Your firm and imperishable Blessing.22
असीतासमेतैरकोदण्डभूषै-
रसौमित्रिवन्द्यैरचण्डप्रतापैः ।
अलङ्केशकालैरसुग्रीवमित्रै-
ररामाभिधेयैरलं दैवतैर्नः ॥२३॥
Aseetaasametairkodand bhooshai,
rasaumitri vandhyair Chand prataapaih,
Alankesh kaalair sugreev mitrair,
Ramabhi dheyairalam daivtair nah.23
We have many gods, who are without consort like Sita, who are unadorned by the Bow, who are not revered by Lakshman or Shatrughna, who are not of terrific valor, who are not capable of killing the Lord of Lanka, who are not friends of Sugreev and who do not have the name of Ram. No other God is required by us except Rama. Shri Rama alone is enough for us. (Who is always with Sita, Who wears the Kodand bow as ornament, Who is being saluted by Lakshmana, Who is well known as a great hero, Who is the God of death to the king of Lanka, And who is a friend of Sugreeva.) 23
अवीरासनस्थैरचिन्मुद्रिकाढ्यै-
रभक्ताञ्जनेयादितत्वप्रकाशैः ।
अमन्दारमूलैरमन्दारमालै-
ररामाभिधेयैरलं दैवतैर्नः ॥२४॥
Aveerasanasthair chin mudrikadhyair,
Bhaktaanjaneyadi Tatva prakashaih,
Amandaar moolair mandaar malair,
Ramabhi dheyairalam daivtair na. 24
It is only Lord Rama who, adorned by garlands of the mandaar flowers, is seated comfortably in the virasana posture under the mandara tree, and with his right hand in the chinmudra pose, expounds the Supreme Truth to Anjaneya and other devotees. No other deity can be so. Enough of other deities other than Lord Rama.
असिन्धुप्रकोपैरवन्द्यप्रतापै-
रबन्धुप्रयाणैरमन्दस्मिताढ्यैः ।
अदण्डप्रवासैरखण्डप्रबोधै-
ररामाभिधेयैरलं दैवतैर्नः ॥२५॥
Asindhu prakopair vandhya prataapair,
Bandhu prayanair mandasmitaadhyaiha,
Dand pravasair khand prabodhair,
Ramabhi dheyairalam daivtair nah. 25
Lord Rama made the ocean the target of His anger. He is worshipped for just his valor. He traveled in the Dandak forest on exile, with His relatives. He wears a plaseant smile and revives people from the defects of birth and death, Lord Rama alone can be worshipped by us. We do not need the other gods.25
हरे राम सीतापते रावणारे
खरारे मुरारेऽसुरारे परेति ।
लपन्तं नयन्तं सदाकालमेवं
समालोकयालोकयाशेषबन्धो ॥२६॥
Hare Ram seetapate ravanaare,
Kharare murare asurare pareti,
Lapantam nayantam sada kaalmevam,
Samalokayaalokyaa shesh bandho. 26
O Rama,the beloved consort of Sita , Hari , O destroyer of Ravana , O foe of khar and mur, O enemy of the asuras! O Supreme One! O support of all ! Cast Your Auspicious glance on Your devotees, who do spend all time uttering Your Holy Names. 26
नमस्ते सुमित्रासुपुत्राभिवन्द्य
नमस्ते सदा कैकयीनन्दनेड्य ।
नमस्ते सदा वानराधीशवन्द्य
नमस्ते नमस्ते सदा रामचन्द्र ॥२७॥
Namaste sumitraa suputraabhi vandhya,
Namaste sada kaikeyi nandnedya,
Namaste sada vaanaradheesh vandhya,
Namaste, namaste sada Ramachandra. 27
O Lord Rama, Salutations to Him who is worshipped by the good sons of Sumitra. Salutations to Him who is ever worthy of praise by the darling son of Kaikeyi. Salutations unto Him who is ever saluted by the Lord of the Vanaras . Salutations and salutations always to Lord Ramachandra.27
प्रसीद प्रसीद प्रचण्डप्रताप
प्रसीद प्रसीद प्रचण्डारिकाल ।
प्रसीद प्रसीद प्रपन्नानुकंपिन्
प्रसीद प्रसीद प्रभो रामचन्द्र ॥२८॥
Praseed, praseed, Prachand prataap,
Praseed, praseed, prachandari kaal,
Praseed, praseed, prapannaanukampin,
Praseed, praseed, prabho Ramachandra.28
O Valorous one! Shower your grace, shower your grace, O the Death of strong and violent foes! Shower your grace, shower your grace, O Epitome of Compassion towards the ones who seek refuge! Shower your grace, shower your grace. O Lord Rama! Shower your grace, shower your grace. Be propitious unto me! 28
भुजन्ङ्गप्रयातं परं वेदसारं
मुदा रामचन्द्रस्य भक्त्या च नित्यम् ।
पठन् सन्ततं चिन्तयन् स्वान्तरङ्गे
स एव स्वयं रामचन्द्रः स धन्यः ॥२९॥
Bhujangprayaatam param ved saaram,
Mudaa Ramchandrasya bhaktyaa cha nityam,
Pathan santatam chintayan svaantarange,
Sa ev swayam ramchandrah sa dhanyah. 29
This Ramabhujanga-prayata stotra is indeed holy and is the essence of the Vedas. One who recites this stotra with gladness everyday, being full of devotion towards Shri Rama, and constantly meditates upon it, he indeed becomes Ramachandra and is the Blessed One.29
इति श्रीमद शंकराचार्य कृतं श्रीरामभुजङ्गप्रयातस्तोत्रम् ।।
Benefits of Rama Bhujangaprayata Stotram:
*Devotion and Connection increases towards Lord Rama.
*Blessings for Success and Prosperity and overall well-being in life.
*Salvation and Liberation (Moksha) , It leads one closer to attaining spiritual liberation and freedom from the cycle of birth and death.
*Attainment of Eternal Truth, It may lead seekers on a path of self-realization and a deeper understanding of the ultimate reality.
*Develops Inner Strength and Courage.
Be a part of this Spiritual family by visiting more spiritual articles on:
For more divine and soulful mantras, bhajan and hymns:
Subscribe on Youtube: The Spiritual Talks
For Spiritual quotes , Divine images and wallpapers  & Pinterest Stories:
Follow on Pinterest: The Spiritual Talks
For any query contact on:
E-mail id: thespiritualtalks01@gmail.com..