Ram Raksha Stotra English Lyrics with meaning | Shri Ram Raksha Stotra in English with meaning | Ram Raksha Stotra | Ram Raksha Stotram 
Hymn of Lord Rama for protection from obstacles
Subscribe on Youtube: The Spiritual Talks
Follow on Pinterest: The Spiritual Talks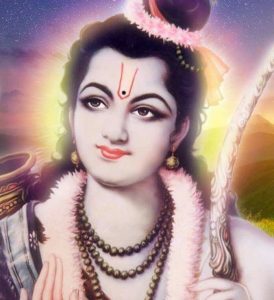 Shri Ganeshaya Namaḥ
Asya Shri Ram Raksha Stotra Mantrasya
Budh Kaushik Rishiḥ
Shri Sita Ram chandro devta
Anuṣhṭup chandah
Sita Shaktih
Shrimad Hanuman keelkam
Shri Sita Ramchandra preetyarthe Ram Raksha Stotra jape viniyogaḥ
Salutations to the Lord Ganesha (Lord of knowledge) of this hymn seeking Lord Rama's protection.
The author of this hymn is Budhkaushik.
The deity is Shri Sita-Ramchandra.
The meter is eight syllables in a quarter.
Power (energy of mother nature) is Sita.
Limit (protector) is Hanuman.
The recitation is for (devotion to) Ramchandra.
Ath dhyanam     
Then meditate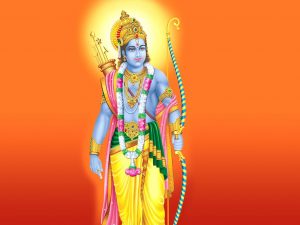 Dhyayeda janu bahum dhrit sar dhanusham baddha padma sanastham
Peetam vaso vasanam nav kamal dal spardhi netram prasannam
Vaamank roodh Sita mukh kamal mil lochanam neer dabham
Nana lankaar deeptam dadh tamuru jata mandalam Ramchandram
May he be meditated upon, Who has arms reaching his knees, Who is holding a bow and arrows, Who is seated in a lotus pose. Who is wearing yellow clothes. Whose eyes compete with petals of a fresh lotus. Who looks contented. Whose sight is fixed on the lotus face of Sita sitting on his left thigh. Whose color is like that of rain cloud. Who shines in various ornaments and has matted hair which can reach till thighs, the Ramchandra.
Iti dhyanam
Thus meditate
Ram Raksha Stotra English Lyrics with meaning
Ram Raksha Stotra English Lyrics with meaning
Charitam Raghu Naathasya sat koṭi pravistaram
Ekaik makṣharam punsaam maha paatak naashnam॥1॥
The life story of Sri Ram has a vast expanse. Recitation of each and every word is capable of destroying even the greatest sins ॥1॥
Dhyaatva neelootpal Shyamam Ramam rajiv lochanam
Janki Lakshmano petam  jata mukut manditam॥2॥
Let us meditate on the blue-complexioned, blue lotus-eyed Rama, Who is accompanied by Sita and Lakshman, and is well-adorned with crown of matted hairs॥2॥
Saasi toon dhanur baaṇ paanim naktam charaant kam।
Sva leelya jagat traatu maa virbhoot majam vibhum॥3॥
Who has sword, bows and arrows, Who destroyed the demons, Who is birthless (beyond birth and death) but is incarnated by his own will to protect this world॥3॥
Ram Rakshaam paṭhet praagyah paapagh neem sarv kaam daam।
Shiro me Raaghavaḥ paatu bhaalam dashrathaat majah॥4॥
May the wise read the Hymn of Lord Ram for protection which destroys all sins and grants all desires. May Raghu's descendant Ram protect my head. May Dasharatha's son (Ram) protect my forehead॥4॥
Kausalyeyo dṛishau paatu vihvaamitra priyah shruti।
Ghraanam paatu makh traata mukham saumitri vatsalah॥5॥
May Kausalya's son protect my eyes. May favorite disciple of Vishvamitra protect my ears. May saviour of sacrificial fire protect my nose. May affectionate to Lakshman protect my mouth॥5॥
Jihvaam vidya nidhih paatu kantham Bharat vanditaḥ।
Skandhau divya yudhah paatu bhujau bhagnesh kaarmukah॥6॥
And may ocean of wisdom protect my toungue. May he who is saluted by Bharat protect my neck. May bearer of celestial weapons protect my shoulders. May he who broke (Lord Shiva's) bow protect my arms॥6॥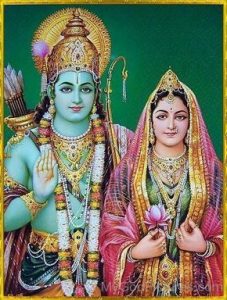 Karau Sita patih paatu hridayam jaam dagnyajit.
Madhyam paatu khar dhvansi naabhim jaambavadaashrayah॥7॥
May husband of Sita protect my hands. May He who won over Parashuram protect my heart. May slayer of Khar demon protect my abdomen, May He who gave refuge to Jaambavad protect my navel॥7॥
Sugreeveshah kaṭi paatu sakthini Hanumat prabhuḥ।
Uru Raghuttamah paatu rakshah kul vinaash kritah॥8॥
May Master of Sugreev protect my waist. May Master of Hanuman protect my hips. May the best of Raghu scions and destroyer of the lineage of demons protect my knees॥8॥
Januni setu krit paatu janghe dash mukhaan takah।
Padau bibheeshan shreedah paatu raamo akhilam vapuh॥9॥
May establisher of the bridge (Ramsetu) protect my thighs.May slayer of ten-faced (Raavan) protect my shins.May consecrator of wealth to Vibhishan protect my feet.May Shri Ram protect my entire body॥9॥
Etam Ram balo petaam rakshaam yah sukritīi pathet.
Saa chirayuh sukhi putri vijayi vinayi bhavet॥10॥
May the good man read this hymn become equal to all the power of Ram, live long, be blessed with children, be victorious and possess humility॥10॥
Paataal bhootal vyom chaari nash chhadm chaarinah.
Na drash tu mapi shak taaste rakshitam Ram nama bhih॥11॥
The evil traitors who travel in the hell, earth and heaven and who travel secretly changing forms will not be able to see the one protected by the chanting of Rama-naam ॥11॥
Ram Raksha Stotra English Lyrics with meaning
Raameti Ram bhadreti Ram chandreti va smaran.
naro na lipyate paapaih bhuktim muktim cha vindati॥12॥
The one who remembers Ram, Rambhadra and Ramchandra , sins never get attached to him. He gets good life and salvation॥12॥
Jagajjai traik mantren Ram naamna bhirakshitam।
Yah kanthe dhaarayettasya karasthah sarv siddhyah॥13॥
This world conquering mantra is blessed by Ram's name. He who always utters it, he holds the keys to all arts ॥13॥
Vajra  panjar naamedam yo Ram kavacham smaret.
Avyaah taagyah sarvatra labate jaya mangalam॥14॥
He who recites this hymn of the name of Rama called as cage of diamond will be obeyed everywhere by everyone and will get victory in all things॥14॥
Aadishṭ vaan yatha svapne Ram rakṣha mimaam harah.
Tathaa likhit vaan praataḥ prabuddho budh kaushikah॥15॥
This protective hymn of Ram, as told by Shiva (Har) in the dream, was written down (as told) by the enlightened (by Shiva's visitation) Budh kaushik in the morning (upon waking up)॥15॥
Aaramah kalp vrikshaa naam viraamah sakalaa padaam.
Abhi Ram stri lokaanaam Ramah Shrimaan sa nah prabhuh॥16॥
Who is like a garden of wish giving trees and who stops all obstacles and who is the praise of all three worlds, Sri Ram, is our Lord॥16॥
Tarunau roop sampannau sukumaarau mahabalau.
Pundareek vishaalaakshau cheer kṛṣṇa jinaambarau॥17॥
Who are young, full of beauty, clever and very strong, Who have broad eyes like lotus, Who wears the hides of trees॥17॥
Phal moola shinau daantau taap sau brahma chaariṇau.
Putrau dasharathasyaitau bhraat rau Ram Lakshmanau ॥18॥
Ones who are subsisting on roots and fruits and practicing penance and celibacy. Two brothers, sons of Dasharath, Ram and Lakshman (protect us)॥18॥
Sharanyau sarv satvaa naam shreshṭhau sarv dhanush mataam.
Raksah kul nihantaarau traayetaam no Raghuttamau॥19॥
Who give protection to all beings and Who are foremost among all the archers, Who destroy whole race of demons, protect us, o best of scions of Raghu॥19॥
Ram Raksha Stotra English Lyrics with meaning
Aatt sajj dhanushaa vishu 'sprishaa vakshayaa shug nishang sanginau।
Rakshanaaya mam Ram Lakshaman vagratah pati sadaiv gachha taam॥20॥
With bows pulled and ready, their hands on the arrows packed in ever full quivers carried on their backs. May Rama and Lakshaman always escort me in my path for my protection॥20॥
Sannaddhah kavachi khadgi chaap baan dharo yuva.
Gacchan manoratho 'smaakam Ramah paatu sa lakshamanah॥21॥
Young men, prepared and armed with sword, shield, bow and arrows. Rama, Who makes our cherished thoughts come true in the world. May He, along with Lakshman, protect us॥21॥
Ramo Daashratih suro lakshmana anucharo bali।
Kaakut 'sthah purushah poornah Kausalyeyo Raghuttmah॥22॥
Valiant Ram, the son of Dasharath and ever accompanied by powerful Lakshman. The scion of Raghu, the son of Kausalya, is all powerful and is the perfect man॥22॥
Vedaant vedyo yagyeshah puraan purushottamah.
Jaanki Vallabhah shrimaan prameya parakramah॥23॥
He who can be perceived by Vedanta, lord of sacrificial fire, ancient and best among all men, dearest of Sita, whose bravery is immeasurable॥23॥
Ityetaani japen nityam mad bhaktah shraddh yaanvitah.
Ashvamedha dhikam puṇyam sampraapnoti na sanshayah॥24॥
(Thus lord Shiva said) My devotee who recites these names of Ram with faith. He, without any doubt, is blessed more than the performance of Aswamedha (Sacrifice of white horse) etc.॥24॥
Raamam doorva dal shyamam padmaaksham peet vaas sam.
Stuvanti naam bhir divyairna te sansaarino narah॥25॥
Ram, dark-complexioned like leaf of green grass, Who is lotus-eyed and dressed in yellow clothes.
Who sing the praise of him are no longer ordinary men trapped in the world॥25॥
Raamam lakshman-poorvajam raghuvaram Sita patim sundaram।
Kaakutastham karunaar ṇavam gun nidhim vipra priyam dhaarmikam।
Rajendram satyasandham dasharath-tanayam shyamalam shaant moortim।
Vande lokaa bhi Raamam Raghukul tilakam Raaghavam Ravanaarim॥26॥
Rama, the Elder brother of Lakshman, Best of the Scions of the Raghu, the Husband of  Sita, Handsome, Ocean of compassion, Treasure of virtues, the Most Beloved of the religious people, Emperor of kings, Follower of truth, Son of Dashrath, Dark-complexioned, Idol tranquillity. Salute to cynosure of eyes of all people, the crown jewel of the Raghu dynasty and the enemy of Ravana॥26॥
Shriramarakshastotram English Lyrics with meaning
Ramaaya Rambhadraaya Ramchandraaya vedhse।
Raghu nathaaya nathaaya Sītaayaḥ patye namah॥27॥
I salute to Rama, beloved Rama, moon like peaceful Rama. I salute to Lord of Raghu Scion, Lord (of all), husband of Sita॥27॥
Shri Ram Ram Raghu nandan Ram Rama।
Shri Ram Ram Bharat agraj Ram Ram।
Shri Ram Ram ran karkash Ram Ram।
Shri Ram Ram  sharanam bhav Ram Ram॥28॥
Ram who is the delight of the Raghus.
Ram who is the elder brother of Bharat.
Ram who is the tormentor of his enemies.
I come under refuge of God Ram.॥28॥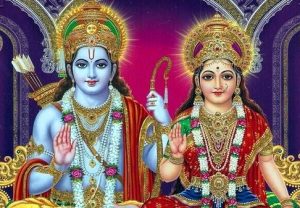 Shri Ram chandra-charanau mansa smaraami।
Shri Ram chandra -charanau vachasa grinaami।
Shri Ram chandra -charanau shirsaa namaami।
Shri Ram chandra -charanau sharanam prapadye॥29॥
I remember the feet of Sri Ramchandra in my mind.
I praise the feet of Sri Ramchandra by my speech.
I salute the feet of Sri Ramchandra by bowing down my head.
I take refuge on the feet of Sri Ramchandra by bowing myself down॥29॥
Maata Raamo matpita Ram chandrah।
Svami Raamo mat sakha Ram chandrah।
Sarvasvam me Ram chandro dayaaluh।
Naanyam jaane naiv jaane na jaane॥30॥
My mother is Ram, my father is Ramchandra.
Lord is Rama, my dearest friend is Ramchandra.
My everything is merciful Ramchandra.
I know of no other like him, I really don't!॥30॥
Dakshine lakshmano yasya vaame tu janakaatmaja।
Purto maarutir yasya tam vande Raghu nandanam॥31॥
I salute to delight of the Raghus (Ram), Who has Lakshman on his right and daughter of Janak (Sita) on the left and who has Hanuman in his front ॥31॥
Lokaabhi Ramam ran rang dheeram rajiv netram Raghuvansh naatham ।
Kaarunya Roopam karuna karantam Shri Ramchandram sharanam prapadye॥32॥
I surrender to (that) Lord Sri Rama Who is Cynosure of eyes of all people, Courageous in war, Lotus-eyed, Lord of the Raghu race, Personification of compassion, ॥32॥
Manojavam maarut tulya vegam jitendriyam buddhi mataam varishtham।
Vaataatmajam vanar youth mukhyam Shri Ram dootam Sharanam prapadye॥33॥
I bow down to him Who is as fast as the mind, Equals his father (wind) in speed, Master of senses, Foremost amongst brilliants, Son of the Wind, Leader of the Monkey forces and messenger of Shri Ram ॥33॥
koojantam Ram-Raameti madhuram madhuraaksharam।
Aaruhya kavitaa Shaakhaam vande vaalmiki kokilam ॥34॥
I salute that (cooing cuckoo perched atop poetry-tree) Valmiki Who sings the sweet name of Ram.॥34॥
Aapdaam pahartaaram daataram sarv sampadaam।
Lokaabhi Raamam Shri Raamam bhooyo bhooyo namaam yaham॥35॥
I again and again salute that Rama Who is destroyer all dangers and consecrator of all sorts of wealth ,  Who is cynosure of eyes of all people॥35॥
Bharjanam bhav beeja naa marjanam sukh sampadaam।
Tarjanam yam dootaa naam Ram-Raameti garjanam ॥36॥
The roar of the name of Rama Destructs of the cause of Rebirth (i.e gives you liberation), Generates Happiness and Wealth, Scares Yama's (lord of death) messengers ॥36॥
Ramo Raaj manih sada vijayate Ramam Ramesham bhaje ।
Raamena bhihata nishaachar chamu Raamaya tasmai namah।
Raamaan nasti parayanam partaram Ramasya daaso 'smyaham।
Raame chitt layaḥ sada bhavatu me bho Ram maamuddhar॥37॥
I worship Rama Who is  Jewel (among kings) , Who always wins and Who is Lord of Lakshmi (Goddess of Wealth). I salute that Rama through Whom the hordes of demons who move at night have been destroyed. There is no place of surrender greater than Rama, (and thus) I am servant of Rama. My mind is totally absorbed in Rama. O Rama, please lift me up (from lower to higher self)॥37॥
Ram Rameti Rameti Rame Raame manorame।
Sahasranaam tattulyam Ram naam varaanane॥38॥
Lord Shiva explained to Goddess Gauri,"O Parvati ! My mind enjoys saying Ram Ram". Uttering once the name of Ram is equal to the uttering of any other name of God, a thousand times॥38॥
Iti Shri budh kaushik virchitam  Shri Ram Raksha stotram sampoorṇam॥         
Thus ends Hymn (of Lord) Rama (for) protection and composed by Budh-Kaushik॥
Shri Sita Ram Chandra arpan mastu॥  
My humble devotion of this Hymn to (Lord) Sita-Ramchandra
Ram Raksha Stotra English Lyrics with meaning
Be a part of this Spiritual family by visiting more spiritual articles on:
For more divine and soulful mantras, bhajan and hymns:
Subscribe on Youtube: The Spiritual Talks
For Spiritual quotes , Divine images and wallpapers  & Pinterest Stories:
Follow on Pinterest: The Spiritual Talks
For any query contact on:
E-mail id: thespiritualtalks01@gmail.com